Magenta Jim & The Coins of Doom for the ZX Spectrum
A downloadable ZX Spectrum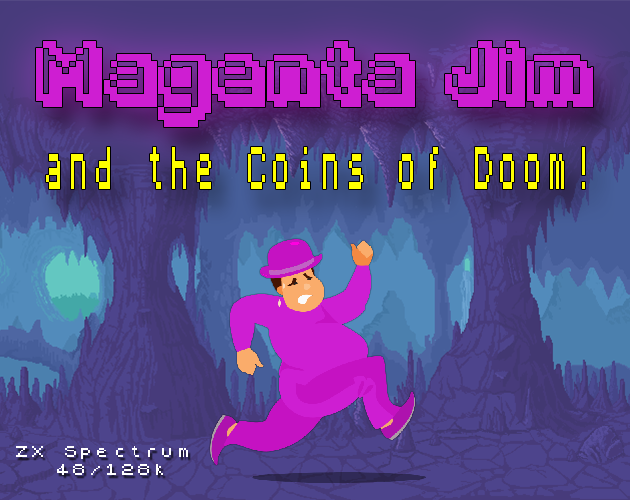 This is a ZX Spectrum game. You can play it on actual ZX Spectrum machine or in an emulator with the 48k or 128k version.

Jim has set out to explore the caves of the Blimey Mountains in search of the "Coins of Doom"! He needs to gather all the coins in order to complete his mission. You have 60 seconds to complete each level to collect the coins and evade the "Cylon Ghosts". Keep an eye on your time, the more time you have left adds to your score.
Controls: QAOP or Joystick/Gamepad and H to pause game.
Music by Riggz Solo 48k version.
Game created using MPADG by Jonathan Cauldwell
Download
Click download now to get access to the following files:
Magenta Jim 128.tap
23 kB
Comments
Log in with itch.io to leave a comment.
Bloody good, fiendishly difficult at times. But damn good game
Ooh ya bugger! Pixel perfection needed for those wall openings.
Tricky!
Nicely done Gaz. My ambition is to release a Spectrum game one day.
It is a tricky game! Thanks very much, you can always get MPAGD and have go yourself. I'm always about to lend a hand ;)
I definitely would like to have a go, yes.
Now updated with 10 extra levels!!
ooh! You are making it hard for me to ever complete!
I know, but at least it's pretty much finished now as a fully functional game with 20 levels! :)